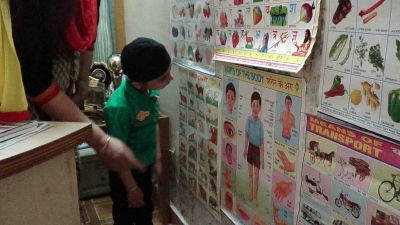 About Rekha Rehabilitation Centre (RRC)
Rekha Rehabilitation Centre (RRC) – A Centre was under provisions of Rehabilitation Council of Indian for Special Children in Tri-city and is operational since 2007 at Panchkula.
This Centre offers various services to children suffering with Cerebral Palsy, Autism, Neurological Developmental Disorder, Hearing & Speech Impairment, Mental Retardation as well as Psychological Counselling to their parents/guardians. It also provides educational services to slow learners. Speech Therapists work with these children to improve their communication skills with innovative and scientifically developed speech therapy by the proprietor of the centre Rekha Rani Special Educator & Counsellor
Clinical Psychologist assesses their intelligence and provides counselling for behavioural disturbances. Occupational Therapist trains the children in their daily living and improves function balance and walking skills of children with handicap.
All these services are provided at nominal fee to the special children under one roof. Once the children are able to walk, talk and take care of their toilet needs they are guided to get admission into main stream schools.
RRC has a guidance structure in their curriculum for preparatory school for Special Children. The proprietor of the Centre is the Special Educator takes care of the educational needs of children with cerebral palsy, hearing and communication problems. Trained staff assists and help parents/guardians of differently-abled children to spread awareness about the benefits of early diagnosis and treatment of children with disabilities.
RRC after detailed assessment of special children, analyse and identify the need of Prescribing Physical, Occupational, and Speech Therapy Services for Children with Disabilities
Since 2013 RRC has also add another feather in its cap by extending additional services of giving guidance and counselling for adolescents to fight the stress and  to select option  of higher studies to build their career based on their capabilities and interests.
RRC is also serves several Institutions in the region. To make them aware the programme required for special children and support training of trainers, counsellors, and parents. The Centre since its inception has cured many special children and brought them to main stream. Also, helped guided and counselled adolescents to cope up with the stress and achieve their goals in studies.
Early intervention is utmost important for speedy assessment and turning differently abled special children into main stream and become responsible citizen. We specialise in Early Intervention programs preparing children for inclusive education.
A glimpse of body of work carried out by the centre in building our society in terms of turning special children into main stream and adolescents to take up study courses of their choice based on capabilities is Unique Selling Proposition (USP) of this centre A few triumphs are listed as under:-
Since 2007 to 2012
Autism
Cerebral Palsy
Mental Retardation
Hearing Impaired
Speech Therapy
 

 

No of Children benefitted
1000
1000
1000
1000
1000
 
Since 2013 to date
Autism
Cerebral Palsy
Mental Retardation
Hearing Impaired
Speech Therapy
Guidance & Counselling of Adolescents
No of Children benefitted
2000
2000
2000
2000
2000
8000
Total
3000
3000
3000
3000
3000
8000
Values:
RRC believe in its commitment and interventions in achieving results:-–
Ensure Trust and dedication in dealing.
Value for time and money invested of needy
Love and care of special children
Passion and commitment
Believe in blessings of God
Mission:
RRC mission is to ensure that all the special children after rehabilitation will to join main stream as independently and adolescents to fight stress and build their career.
Vision:
In next ten years RRC to become first choice for rehabilitation of special children and guidance and counselling centre of adolescents for selecting higher education and career option.